Solution for distributors
Your target group is already here
Get listed on the platform your target group uses to research products and prices: over 7,800 active resellers use ITscope.com on a regular basis, performing over 55,000 searches and product enquiries daily.
A listing on ITscope gives you a broader insight into the market and, thanks to EDI, optimises lengthy and costly enquiry and order processes. All without commission on revenues!
Your target group is already here
Get listed on the platform your target group uses to research products and prices: over 7,800 active resellers use ITscope.com on a regular basis, performing over 55,000 searches and product enquiries daily.
A listing on ITscope gives you a broader insight into the market and, thanks to EDI, optimises lengthy and costly enquiry and order processes. All without commission on revenues!
All you need is a price list. We can integrate your assortment easily and inexpensively, and will update it accordingly so that your online stock and pricing data is always up to date – including your individual ordering terms.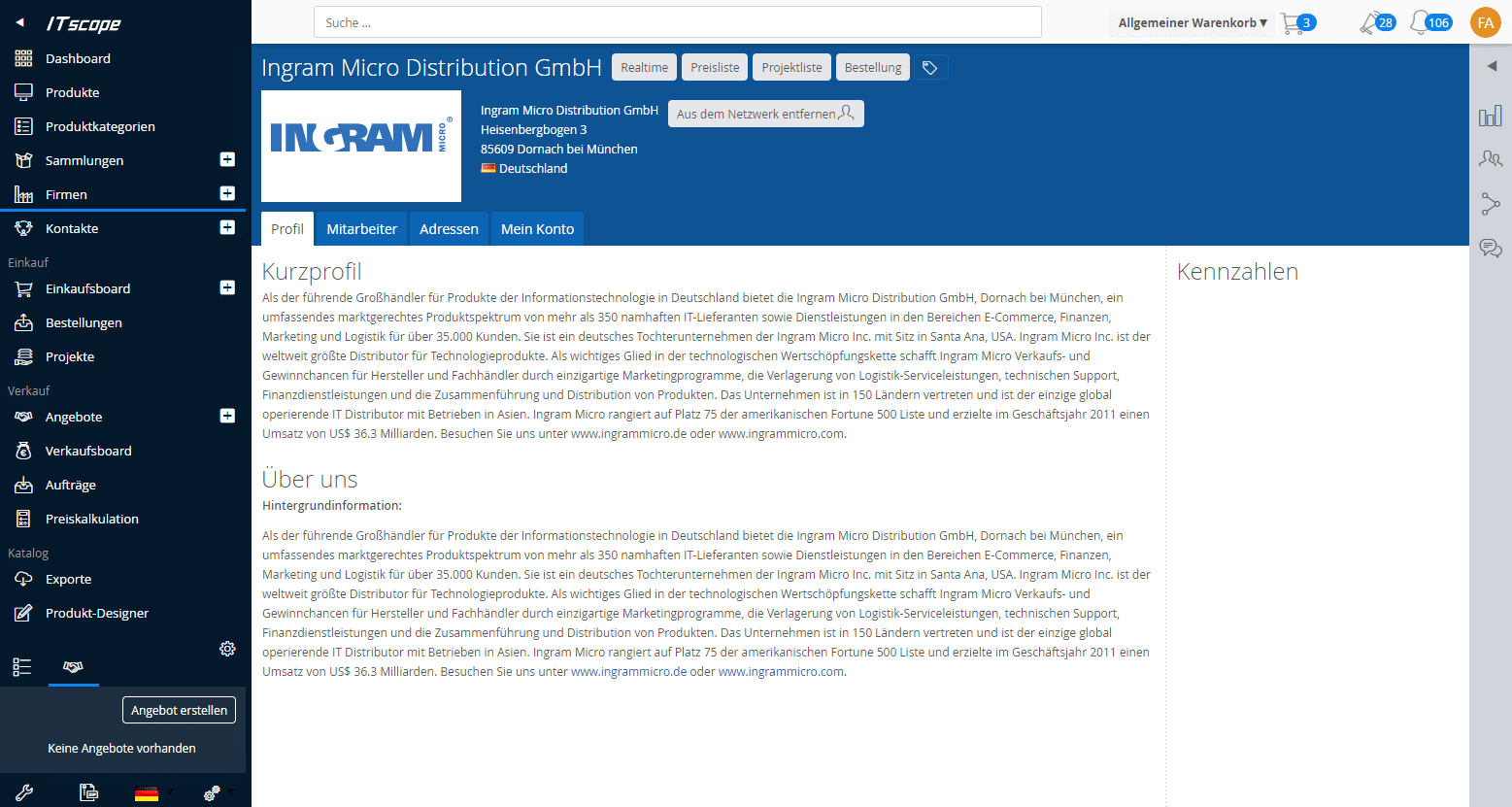 With ITscope, your sales team always has access to the latest market data. We list price and stock information from over 400 suppliers, while the product history provides you with an overview of past price changes and stock levels.
Promote your products or special offers prominently on the dashboard or product portal of the ITscope platform. With a tile on the dashboard, you can present yourself exclusively as the only advertiser and stand out from the competition.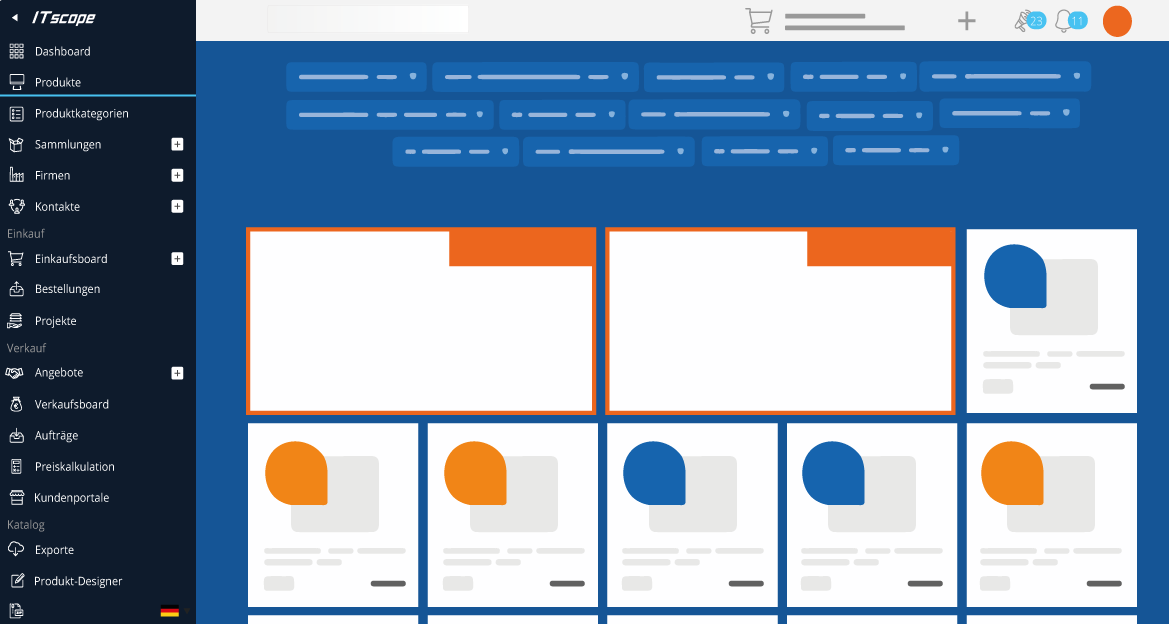 Cost savings through electronic order processing: ITscope's order system can be easily integrated into common ERP systems of listed vendors.
Benefit from fast and transparent order processing and make it easier for your customers to track their order status, delivery data or even the serial number of the ordered product.
ITscope provides machine-readable product, price and market data for exports, e.g. as XML or JSON files. Inconsistencies and incomplete data are a thing of the past.
Simple ordering process – also for services

"ITscope and KOMSA partners profit from fast order processing thanks to the fully electronic interface. All relevant documents can be transferred automatically; dispatch notifications, serial numbers and parcel tracking details are all available in one place. Our other services, such as partial delivery or dropshipping, are also available through the interface. This facilitates procurement for all resellers registered on ITscope.
Product variety and level of product information detail is very extensive

Working with ITscope on a daily basis, the platform offers a real added value to my employees and myself in many aspects: up-to-date prices and availabilities can be seen at all times, the product variety is enormous and the level of detail available for product information is astonishingly high. In addition, the platform also allows us to keep an eye on competitors: who is offering which products, and at what price? Thanks to ITscope, we are able to answer these questions.
That one step faster thanks to ITscope

ITscope helps us to make our operations more efficient every day. We use data exports to enhance our portfolio, which is made possible because ITscope connects directly to our ERP system. The digital data transfer enables us to be that one critical step faster. Orders from our customers arrive at our end through ITscope, too: our customers order with us, and we deliver quickly, reasonably priced and efficiently.
Distributors & resellers all in one place

At ScanSource, we focus on worldwide VAD of barcode scanners, label printers, mobile computers and other auto ID hardware for POS. ITscope is a highly suitable place for us to present and sell our product lines to existing and potential new customers based in Europe. The platform brings together distributors and resellers, and offers various tools that facilitate doing business together. As it is a closed community for the ICT industry, displaying advertising on ITscope also offers a great opportunity to reach our target audience with close to zero coverage loss.
'The place to be' for IT distributors

ITscope is one of the most important marketplaces for us to be found as an international distributor. Particularly in the DACH area, ITscope is of strategic importance for us, as it allows us to present our product range of 4,500 articles to as many specialist dealers as possible. Every day we receive plenty of enquiries through this channel and we are seeing a rising number of enquiries from other EU countries, too.
Simplified processes on both sides

Thanks to the partnership between api and ITscope, our customers profit from a outstanding and important platform that fully captures the api product portfolio. Especially the combination of the EDI connection to ITscope and our new state-of-the-art logistics department ensures that all orders are processed fully automatically, and customers are supplied with products the next day. Using all the possibilities that ITscope offers simplifies many processes on both sides, and ultimately our customers benefit from this to a great extent.
Win-win thanks to broad market access

As an official spare parts distributor for well-known IT manufacturers like HP, Lenovo, Lexmark and Samsung, we greatly appreciate the broad market access provided by ITscope. A large number of new customer enquiries and orders are regularly made through this channel. First-time customers can order from us just as easily as our registered clients, who have the added benefit of being able to view the individual prices made available by us directly in ITscope. For us as an IT distributor, there is plenty of potential in the ITscope network, and we will continue to further utilise this in future.
Switching to ITscope EDI reduces manual effort

Since we've connected to ITscope via EDI, orders are automatically forwarded to our proprietary systems directly upon receipt, and are processed accordingly. This has streamlined our entire order process enormously. Most importantly, our orders reach customers much faster. ITscope also provides us various advantages when it comes to communication with customers. I find the accessories feature particularly helpful, as it offers compatible accessories directly below the respective article. Also, the extremely detailed product descriptions help us to find suitable new devices for our customers.
Order volume quadrupled within two years on ITscope

Over the past two years, order volumes via the platform have quadrupled – and this is set to further increase in future. Many of our regular customers now exclusively order from us through ITscope, which is a benefit for the distribution of both the trade brands we stock and our own label Terra. Getting connected to ITscope's EDI system has given us another, very positive boost. For example, we receive around 25 orders per day from a regular customer, these orders can now be processed automatically thanks to the ITscope EDI interface.
Implement numerous services such as dropshipping via the ITscope EDI

Getting connected to the ITscope EDI has many advantages for us. On the one hand, we regularly attract new customers through the reseller network of ITscope; on the other hand, numerous value-added services likedropshipping can be realised via the interface. Provided an order is placed by 6:30 pm, our customers can rest assured that goods will arrive at their end customers the very next day. This allows our partners to save storage costs, avoid unnecessary commitment of capital and benefit from our strength in fulfilment.
ITscope's level of service is truly impressive

The ITscope web interface is a benchmark of its own: everything is technologically up-to-date, items can be found in no time, and the set of features is very good for both buyers and sellers. We appreciate this as much as our customers do. I was really impressed by the level of service provided by ITscope, too. Enquiries from us or our customers were answered within the shortest time, and problems have always been solved effectively.
Plenty of new customers without active acquisition

ITscope is the perfect place for us to expand our customer network: thousands of potential ICT customers on one platform! Since we've started selling through ITscope.com, we've received a large number of new registrations without doing active acquisition – sometimes it's that easy! The tool is very clearly laid out and you can find all the information you need right away, despite the huge amounts of data. It's not surprising that our customers often buy from us directly through ITscope.
Frequently asked questions
This may also interest you