ERP integration
No more manual transfer of product data
For a variety of systems, ITscope offers integration solutions to connect your ERP system. Automatically import product data, prices, and much more into your core system and order from more than 400 ITC distributors directly from within this system.
Use ITscope as an upstream catalogue
ERP integration made easy: use ITscope to import all the items you need in your ERP at the touch of a button. All important information, such as item master data, prices and current availabilities, are automatically transferred to your core system. This means that your customer quotes are always enriched with the most current data – regardless of whether you create them in your ERP system or in ITscope.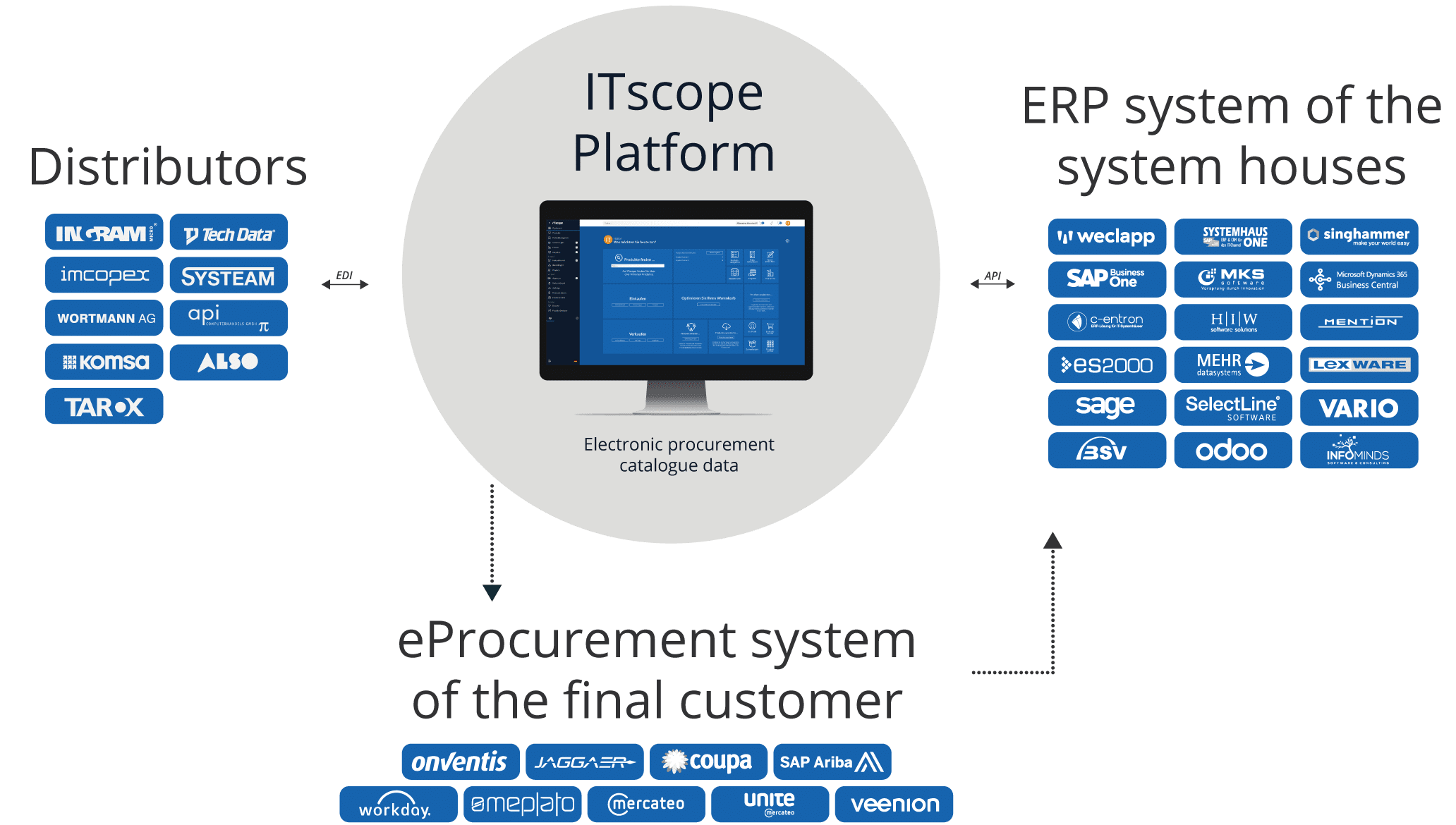 Your system isn't listed?
Thanks to our extensive API based on the OpenTrans format, you can also integrate ITscope individually into any third-party system. Technical information about the API connection can be found in our ITscope Guide
Integration comparison at a glance
| | | weclapp | SITE | Navision |
| --- | --- | --- | --- | --- |
| Product search | Product search in ITscope | ✓ | ✓ | ✓ |
| | Product search in ERP system | ✓ | ✓ | ✓ |
| | Price comparison for existing/older offers | | | |
| Prices/stock levels | Individual price/stock level update | ✓ | ✓ | ✓ |
| | Bulk price/stock level update | ✓ | ✓ | ✓ |
| Add articles | Add products from ITscope to ERP system with a click | ✓ | ✓ | ✓ |
| | Add products in ERP system | ✓ | ✓ | ✓ |
| | ITscope accessory products can be transferred directly | | | |
| Quote | Transfer quotes from ITscope with a click (share button) | ✓ | | |
| | Create quotes in ERP system containing ITscope products | ✓ | ✓ | ✓ |
| Orders | Transfer orders from ITscope to ERP system | ✓ | | |
| | Place orders from the ERP and transmit them via EDI | ✓ | ✓ | ✓ |
| | Automatic document transfer (response documents) | ✓ | ✓ | ✓ |
| | Order confirmation | ✓ | ✓ | ✓ |
| | Delivery note details (serial number) | ✓ | ✓ | ✓ |
| | Dispatch confirmation (tracking information) | ✓ | ✓ | ✓ |
| | Proforma invoice | ✓ | ✓ | ✓ |
| | Orders of licence products | | ✓ | ✓ |
| | Dropshipment | ✓ | ✓ | ✓ |
| | Project orders, special prices | | ✓ | ✓ |
| B2B - Suite | Import orders from B2B Suite into ERP system | ✓ | ✓ | ✓ |
| | Automatic exchange of documents from ERP system into B2B Suite | | ✓ | ✓ |
| | Synchronisation of order status from ERP system into ITscope | ✓ | | |
| Datasheets & content | Datasheet as a URL | ✓ | ✓ | ✓ |
| | Datasheet as a PDF | | | |
| | Datasheet as an HTML | | | |
| | Long text transfer | | ✓ | ✓ |
| | Short text transfer | | ✓ | ✓ |
| | Determination of the article standard appearance | ✓ | | |
| Master data update | Master data of each product can be updated with a click | ✓ | ✓ | ✓ |
| | Master data can be updated via scheduled imports | ✓ | ✓ | ✓ |
| Master data mapping | Mapping/transfer of manufacturers | | ✓ | ✓ |
| | Mapping/transfer of suppliers | | ✓ | ✓ |
| | Mapping of categories | | ✓ | ✓ |
This may also interest you
This may also interest you