Digital sales with ITscope
Start your digital sales journey:
Streamline your sales processes with the power of ITscope
System houses play a vital role as trusted advisors, solution providers, and procurement experts for countless companies. However, it's unfortunate that while they drive digitalization for their clients, their own sales are often hindered by manual processes. At ITscope, we present system houses with an incredible opportunity to embrace automation, save valuable time, and elevate their digital sales to new heights.
Send digital quotes and increase sales opportunities
With ITscope, easily create customized digital quotes in your corporate design. Access over 7 million items and streamline your pricing process by automating it based on manufacturer, supplier, and product category. Easily send your finalized quotes online and engage with customers through our convenient chat function. Maximize your sales potential with cross-selling, upselling, and flexible alternatives. Simplify the digitization of your sales process with ITscope.
Customised B2B shops from the cloud
Easily become an e-commerce provider for business customers in just five minutes. With ITscope Sales Advanced, you can digitize your IT sales and effortlessly create individual B2B online shops. No more wasting time on developing complex shop systems. Our user-friendly cloud solution eliminates the need for individual development. In less than five minutes, you'll have a ready-to-use, no-code B2B shop with top-notch content included. With the convenience of individual approval and electronic ordering processes with ITscope Sales Complete, both you and your customers can reclaim precious time. By doing so, you not only provide added value for your customers but also boost your B2B sales turnover simultaneously.
Create & bundle own products and services
Discover the power to craft and showcase your own unique products and services. Seamlessly combine items from our extensive catalog, tailor prices to suit your specific needs, and enhance the visual appeal with captivating images. Unleash the full potential of your bill of materials and optimize the entire purchasing process. Step outside the norm by creating exclusive product bundles and service packages that stand out from the crowd.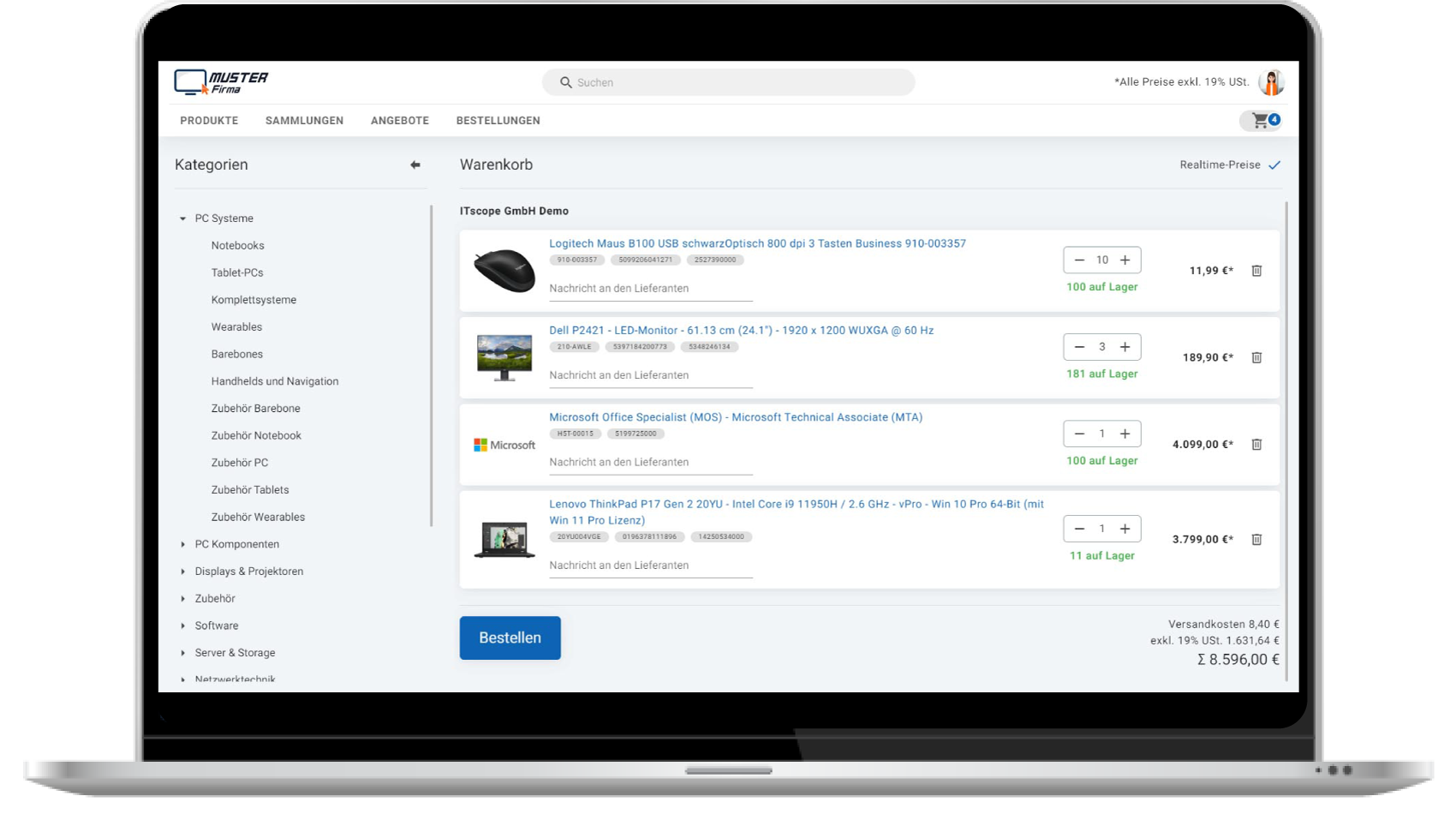 Over 8500 active users who trust us





Frequently asked questions about digital sales with ITscope